Guxt (< 1Mb)
For Father's Day I've a vertically scrolling 2D boss shooter with a very Anglo-Saxon sounding name. Perhaps that's the sort of thing you come out with when playing the game, as it's decidedly on the difficult side! (like some of our children . . . sometimes perhaps!). It may be tough but it's great fun to try to get as far through the game as you can. It's by Pixel (Doukutsu Monogatari), author of the great classic 'Cave Story'.
The difficulty curve is steep as you progress through the game.
It has a single extended level, with checkpoints along the way, but no game save. You have a spaceship and enemies spawn from both the top and the bottom of the screen. You collect power-ups by first destroying their outer shell giving you weapon and speed upgrades, including auto-fire from the first power-up. There's a boss battle at the end of each stage and you can shoot the destroyed core of a boss for a shield.
You can view previous plays, as a 'record' file is created each time you play, which you can afterwards drag onto the game window to watch how well you did (or not!).

You can play with a gamepad, or the 'Arrow' keys with the 'Ctrl' key to fire. Importantly with this type of game, the controls are very responsive. You can re-configure the controls if you wish. The 'Ctrl' key starts the game, 'Tab' pauses, and 'Esc' to quit. You start off with just two lives!
It should play in Win 98, XP, Vista and Win 7. Right-click mouse on the game-screen for other options. You can vary the window size/play full-screen here.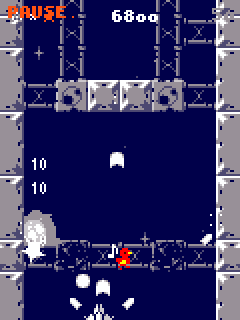 It may have 'old school' music and graphics but it definitely has a nice feel to playing it. In summary, it's a fantastic game, with great controls. If you're a regular shmup player, you shouldn't find it overly difficult - it is a short game (5 stages), but it's most thoroughly enjoyable!
Development Screenshots Here
Video http://http://www.youtube.com/watch?v=3ym6aGCIYrM