[/center]Today's post has been put together rather hurridly. Sorry about the lack of images and the general untidiness of the whole thing. I just don't have the time to tidy it up at the moment. I'll post some images when I've got time. I seem to be chasing my tail at the moment because of all the sleep I've had this week. Anyway I though it would be nice to post a selection of interesting chess games.
Because of the lack of time I've copied the full descritions from Abandonia below, so wont bother to explain the games further. I've also added a couple more games. Alone in the Dark is a point and click adventure. It's fairly old, so the graphics are a little pixillated, but the overall game play is excellent. The other game I've included is an odd racing game. :)
-----------------------------------------------------------------------------------------------------------------------------------------------------
Star Wars Chess : (17.3Mb)
Rejoice all ye who knowest what the TIE stands for in TIE Fighter!
Rejoice ye that playeth the Game of Chess, for no longer do you have to get out all your old Star Wars figures (devaluing them by taking them out the packages) and make an oversized chess board to re-enact and imagine what would happen if C3P0 were to take on a Sandman or if Chewbacca somehow managed to lose a fight against a Stormtrooper – it's not just me, is it? - Star Wars Chess is here!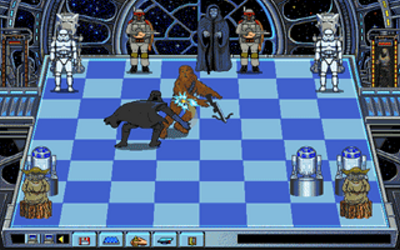 Digitized Soundblaster Blasters and the unforgettable Star Wars themes abound. Digitized voices are also a pleasing addition, if not exactly the voices you remember.
At first, I thought this would just be "Battle Chess enters the Star Wars universe". I wasn't far off the mark. But this game is a LOT funnier than I first thought it was going to be. Surprisingly so, in fact.
The battleground has been moved from the vacuum of space, the forests of Endor and the frozen wastes of Hoth to the somewhat smaller, but by no means lesser, arena of the Chessboard.
Not only content with being Emperor, Palpatine also takes the title of King, appointing Darth Vader the title of Queen (really, who else could he play?) and makes his gambit for Galactic Domination. Though this not the Vader I grew up to know and love - none of the malicious and sadistic quirks and foibles that are his trademark here, I'm afraid.
Boba Fett, playing the part of the Empire's Blaster-Wielding, Jet-Packing Bishop, is perhaps the closest to George Lucas' "Dark Side" characters to act out their part in this game. The Rebel army is more as you would imagine it to be.
The Dark side of the Force is a shade lighter than it could be. But then, the appeal of Star Wars spans all age gaps. This game is definitely a 3+ age rating, so don't expect any captures to as graphic as they are in other animated Chess games.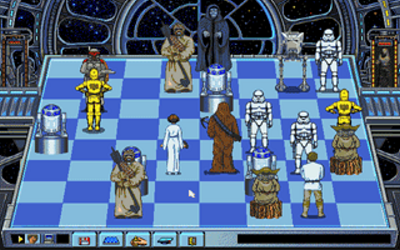 At first, I wondered where Han Solo came into it all, but then I spotted him – still encased in Carbonite in the corner. Relegated to a mere few pixels. Woe is He.
The captures for different pieces are great little comic book animations. Some of them are very unexpected. I don't really want to say too much about them because watching them the first few times is really what makes this game great. The novelty does wear off but the capture animations can be switched off, not only saving time but also removing, to some extent, the repetition factor that is any animated chess game's downfall.
The area will be cleared of pieces and the stage set for a short battle between the two characters.
C3P0, as a rather fittingly camp Bishop, asks Boba Fett, "Don't you know how dangerous these things can be?" before swiping his blaster from his hands, throwing it to the floor and resulting in an accidental discharge decapitating the hero of my youth.
A rather disturbing Yoda, grinning and giving a thumbs up (well, that's what it looks like to me…), as a Rook, is by far the most humorous character in this game. Watching him tell a Stormtrooper that "Backwards their gun is, yes" then using the force to get them blasting their own heads off made me laugh out loud.
I spent several games figuring out which moves to make just so I could watch every single capture animation! Sad as I am...
Then I turned them off, because they slowed the game, made me forget what it was that I was planning and became irritatingly repetitive. I even turned the sound off after a while as the movement music started to grate…
Watching Yoda shuffle his way across the board, taking his sweet time to do so can lower the pace somewhat, too.
The major disappointment, apart from the AI being a little easy for my liking, is that when Check-Mate is made, there is no finishing animation. I was looking forward to seeing Luke Skywalker get mullered seven ways from Sunday by each piece in turn but, alas alack, it is not to happen. "The game is over" you are told, and that's it.
For those not so learned in the wiles and ways of the 2nd best board game in the world, the Mentor Menu will give you a hint on what move may be best next and allow you to gloat over all the pieces you have captured.
For experienced players, the AI is also set in this menu. Though, the difficulty is set by allowing the AI more time to compute it's next move rather than accessing an higher complexity database set.
This can be a touch frustrating, as the computer will take nearly the entire time allotted to it for each move. You can choose to Force a Move (that's force Palpatine Kasparov to make the move it is currently deciding on, not use the Force, young Padawan…) from the Actions Menu, but this rather defeats the purpose of the AI.
From the Actions Menu you can also Switch Sides, for those who always wanted to drop kick Yoda, give a Wookie a Wedgie or perform Unspeakable Acts upon Princess Leia.
From the Play Menu, you can choose to play against another human opponent instead of the AI, or simply spectate and watch the battle unfold between the two sides. You'll also find the "Look and Feel" option in here, which is basically whether White is at the top or bottom – these can all be changed mid-play so there's always the opportunity to change your mind should you get tired of watching Leia wiggle up the board or staring at a row of Stormtrooper's armoured arses.
In the Actions Menu there are the standard Chess game options of recanting a move, setting the board up as you want (utilising a simple interface that is easy to use) and offering a draw as well as the options, found in the Settings Menu, to turn the animations and sounds on and off. Settings, Save, Load and New Game are all available through the Game Menu.
For a Chess game, with another human opponent, this game is great fun. Until the novelty wears off and you go back to using a regular board – an option that is not available as it is in Interplay's BattleChess – or to play the game from a different viewpoint.
This is most certainly worth a play through, if only for the capture animations. Though if you are looking for a Serious Chess Challenge, these aren't the droids you're looking for…
(By the way, TIE stands for "Twin Ion Engine")
Overall, this game is what a game should be – Fun. But for a Chess game, it's not the best. Its redeeming qualities are the fact that it's Chess, it's Star Wars and it's Funny. 'Nuff said.
Info:
This game is multi-lingual. Just edit the SWCHESS.CFG with any text editor, and change ENGLISH to GERMAN, FRENCH or SPANISH to play in these languages.
Running the game in XP:
Under WinXP you probably have to edit the SWCHESS.CFG with any text editor and change the 5s after MUSICPARAMS and DIGITALPARAMS to 7s. That doesn't mean that you will have sound, but you can run the game at least.
Running the game in DOSBox:
The introduction whizzes past unless it's at around 500 cycles, but the game needs to be played at around 10,000. Even then, the pace can be slow because of the movement animation. Set the cycles any higher and the music will stutter. Frameskip and you'll miss out on all the animation that you've downloaded this game for.
Download:
http://www.abandonia.com/en/games/5205/Star+Wars+Chess.html
-----------------------------------------------------------------------------------------------------------------------------------------------------
National Lampoons Chess Maniac Five Billion and One (17.3Mb)
Chess Maniac Five Billion and One is very obviously meant to be a spoof of Chessmaster and goes quite a bit further to entertain than Battle Chess does. The emphasis here is on the word maniac because the people who designed this game had to be slightly off. The thing that impressed me about Chess Maniac is that even though the game does not appear, at first glance, to take chess very seriously there are a decent number of difficulty levels (10) and a lot of gameplay options that the player can experiment with that will not only provide a different look and feel but will also satisfy the chess enthusiast from novice to expert. I expected silly. I didn't expect this kind of challenging and satisfying chess experience. Well done, MicroProse/Spectrum Holobyte.
The Maniac (the games host as described in the manual) is actually rarely seen in the game but the things he does to affect your play are present everywhere. If he beats you he will have raised your ire enough to want to play him again and kick his puny you-know-what. If you beat him, you will want to grind your victory in his face after the verbal abuse you have taken. After which he will calmly exclaim "Up Yours". If you have ever seen 2001:Space Odyssey and remember the voice of HAL at the movies end you will recognize the voice in this game immediately. A computer's version of insanity, I guess. There is also an option to turn his play by play description off although you can't shut him up completely without turning the sound off. If you are ever feeling like playing a vanilla game of computer chess simply select the 2D board and turn your speakers off. If you want to play another person you can do that as well but you will have to do it on one computer; no networking is included.
After the opening credits, splash screens and copy protection you are presented with a choice of going with the boring sets or the bawdy sets. If you don't have the 3D board display option turned on, the bawdy and boring game is basically the same. With 3D turned on they are quite different. You can choose whichever set fits your mood at the time. In all variations of the sets you can use, the opponent will try to distract you in every way possible. He will throw insults at you. He will mock your bad moves and get riled at your good ones. He will do anything he can to break your concentration. And, if you aren't paying attention, he will cheat. So don't get up and go to the bathroom and leave him sitting at the table by himself. He can't be trusted. The cheating scenarios are also a little silly and should be experienced before you turn the cheat option off. If you catch him cheating you can press any key on the keyboard to stop him and possibly dole out a little punishment. He won't be able to cheat without you knowing unless you have left the computer.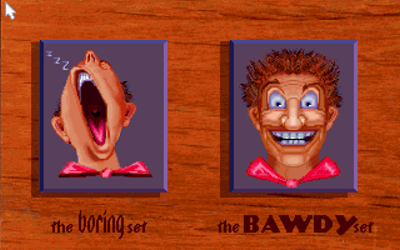 Bawdy. To truly appreciate just how weird Chess Maniac can be you have to play the bawdy set a few times at least. This is the set that will provide the animations that fans of Battle Chess will probably enjoy. Unlike Battle Chess the animations in this game are really video clips involving human beings doing strange things. I have played at least a dozen games on the bawdy set and there are still new and unexpected things that happen during the course of a game. The animations/clips aren't as well done as in the enhanced Battle Chess but they are decent and are enough to make you smile at the silliness and want to test all combination of captures as each will provide it's own unique twist to the game. To be honest, though, after you have played a few games on the 3D bawdy set you will probably switch over to 2D or go to the "boring" 3D set as the uniqueness of the video clips will have, at least temporarily, worn off and you'll want to see the board better. My chief complaint of this board setting is that the characters obscure your vision of the board and it is sometimes difficult to determine which square a character is standing on. If you have difficulty recognizing what piece a character represents the player can right-click that character and the corresponding piece will be announced.
Boring. Boring? Not exactly. The 3d version of the boring set doesn't have the video clips that play when a piece is captured. The chess pieces are represented in their traditional form and an occasional yawning pawn is about all you are going to see for on-board animations. What the game will provide in this set is a changing background and music that is meant to distract. The music can be turned off. The backgrounds aren't really that distracting but might be enough to break your concentration. As in the bawdy set, the opponent's voice is there to insult you and heckle you throughout the game.
In conclusion I guess I have to say again that for a game that I didn't expect to be more than an off-color version of Battle Chess, I was impressed at the number of variations that can be created with the controls that the player is given. It may not rival Chessmaster but was impressive nonetheless.
This game will appeal to all ages and all skill levels. If you think Battle Chess was a four rating or better then you have to give this one at least a four. If you are easily annoyed and a chess purist you might not think as highly of this game but it is getting two thumbs up and four stars from me. There is one serious drawback in the visibility of the game in the 3D bawdy set. If not for that fault this game would be a shining five star. All in all this game is great fun. See what you think.
Info:
About the Extras: The manual, like the game, is meant to be a spoof. If you enjoy the National Lampoon type of humor you will enjoy reading the manual as well as playing the game. You'll find it HERE
Playing in DOSBox:
The game plays well under DOSbox but you need to turn the cycles up to 9000 or higher for smooth animation. Run CM5 from the game directory to start the game. The game, as downloaded, is set up for Soundblaster sound. If you want to reconfigure the sound run "CM5 S" (without the apostrophes).
Download:
http://www.abandonia.com/en/games/23328/National+Lampoons+Chess+Maniac+Five+Billion+and+One.html
-----------------------------------------------------------------------------------------------------------------------------------------------------
Chinese Chess v1.0 (2.21Mb)
Chinese Chess is an interesting board game for free. Chinese Chess is an ancient game nearly 2000 years old, and played by millions of people the world over. The rules of Chinese Chess differs slightly from the internationally recognized game of Chess making it easy for anyone who know Chess to learn how to play Chinese Chess. Rules are in game.
The game: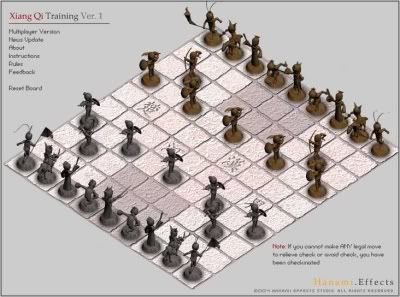 Chinese Chess, or xiangqi, is an ancient game of intelligence. People often know some philosophy of life to raise their awareness of ability,thinking and have fun through a chess board.You can play against computer or a friend.All your family members can join in.

Chinese Chess Soul is also an excellent master level and popular Chinese Chess Game software. Whoever you are, beginner or expert, you will have FUN and EXCITING playing with her. You and your family can be enjoy by beating computer and improving chess level; Arena match game model, Computer adjusts its level to meet your level and record your scores.

The variations in the pieces, their movements, and the board layout make Chinese Chess Soul an exciting and challenging game.Now download Chinese Chess Soul and lead your army filled with Mandarins, Elephants, Horses, Chariots, Cannons, and Soldiers, fight, attack, and checkmate.
Reference accessed HERE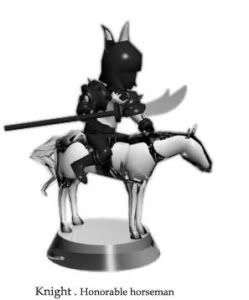 Watch out during installation. Theres a few tick boxes that need unchecking otherwise you'll et a tool bar and a new home page.
The game is playable in only a window. If anyone has the time to see if it's possible to change the coonfiguration via a config file within the installed games folder I'd it would be much appreciated. I just don't have the time at the moment to see myself. Despite it playing in only a window the game looks very smart graphically. The lay out for chinese chess is totally different to the Chess that most of us in the West think of chess.
On the playing screen you have access to a set of rules and there's a link that but the link doesn't seem to be active. in fact you'll find that some of the links (found to the top left of the playing arena take you to pages that show you the various playing pieces. It looks like th game is no longer supported by the author; howerer that game works and is a pleasure to play if you're looking for something a little different to the usual chess.
You'll find more free versions of Chinese chess HERE
You can also get an interesting variant of the game called Qianghong, which has additional plugins to give you a more challenging game. you can get it HERE and another version called Chinese Chess Soul HERE
Downloads:
-----------------------------------------------------------------------------------------------------------------------------------------------------
Alone in the Dark: (5.3Mb)
Alone in the Dark is a very creepy and scary game. Its story and theme are based on the works of H.P. Lovecraft. To tell you the truth, I never completed it, since it used to scare the living daylights out of me. I just didn't have the nerves to play it. It seems funny now, but try to lock yourself in a dark room, turn up the volume and you'll see what I'm talking about.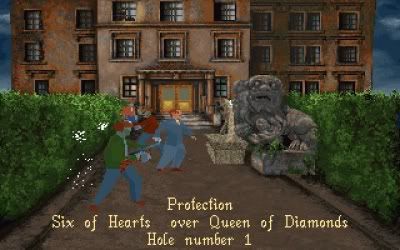 The introduction sets the atmosphere perfectly, and it builds up consistently throughout the game. The story takes place in a haunted house. A certain Jeremy Hartwood died there (possibly through suicide), and it will be your task to investigate what really happened. You will be given a choice between two characters to control throughout the game: Emily Hartwood, who is Jeremy's niece, or Edward Carnby, a private detective. The storyline will not depend on the character of your choice, and their features are equal so it doesn't really matter which one you choose.
You will start your adventure in the attic, because you have reason to believe that an important clue has been hidden in an old piano there. This game combines elements of both adventure and arcade. The minute you start, monsters will start waking up throughout the house and will be coming after you. Depending on the difficulty setting, there will be more or less of them, but an infinite number in either case. This means you will have to play quickly. You won't be able to afford the time to stop and think about what to do next. At the beginning, you will only have your arms and legs for fighting, but as you progress, you will also find guns and swords to fight with. While defending yourself from the monsters, you will also have to complete your original task - solving the murder mystery.
You can probably guess that this game is non-stop action for both your fingers and your brain. But it doesn't just end with excellent story and gameplay. This is also one of the first games to offer three-dimensional graphics that run smoothly even on x386 processors. This was made possible by combining beautiful static backgrounds with not-so-beautiful polygonal characters. It's a compromise that had to be made, but the overall result was breathtaking back in 1992 when the game was published. You have to admit that just by looking at the screenshots, you would say this game requires at least a fast 486. Well, I would like to finish the review here, but it does not end with a brilliant graphics engine either! The game's sounds are great mood setters and will probably cause goose bumps every now and then! Enough said! If you are not convinced by now, you'll never be! A mark of 5, of course, and a definite recommendation.
Info:
Tip: Only the disk version is hosted on this site. If you manage to find the CD version, you'll be rewarded with beautiful CD audio music during the game.
The game plays on my XP pro SP3 okay, but it's recommended you play via DOSBox. The optimal setings are around 10000 cycles; however increasing the cycles won't harm the game but some animated scenes may occur too fast for you to enjoy them if you do and running will be harder to pull off (double tap of the cursor up key).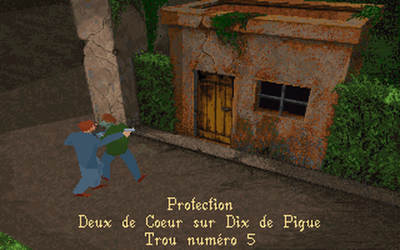 Download:
http://www.abandonia.com/en/games/91/Alone+in+the+Dark.html
you can get a walkthrough via the above link and you can reas the game manual HERE
-----------------------------------------------------------------------------------------------------------------------------------------------------
Moonstone Madness: (4.49Mb)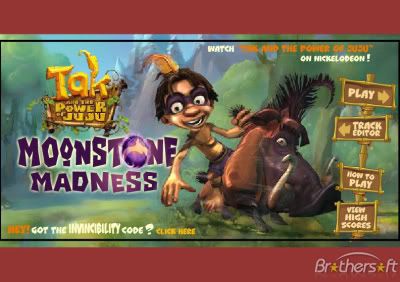 To win a Punununu competition you must ride a boar across the village and through swamps avoiding different obstacles and collecting the required number of moonstones. When you are riding the boar, the arrow keys serve to go faster/slower and to jump/crouch. Spacebar serves to hit the objects. Some objects are breakable and contain moonstones or other useful items. Sometimes Tak can jump high into the air and collect lots of useful stuff.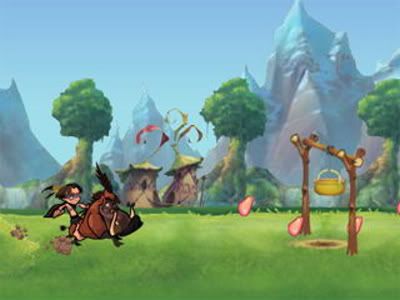 Download:
http://www.bestfreewaredownload.com/freeware/t-free-moonstone-madness-freeware-gxbzdibx.html
or
http://www.brothersoft.com/games/moonstone-madness.html
=====================================================================================================