Finally Tuesdays games are here…. I apologise for the lateness, but as I've said to a few community members that I've finally fulfilled promises too, better late than never. There's a good range of genres to be found in my selection for today. A cool point and click adventure, a bug orientated racing game, an interesting clone of the DOS based puzzle Gear works (which is windows not DOS) and finally a great arkanoid taster.
I'll have some more games for you tomorrow, though technically they are actually today's games. reverseOrder will also be posting his games tomorrow, so you'll have a double bonus to look forwards to as you have today with wizard posting a great game from Vertigo games as well. (thanks Wizz). I've neglected to include my screen shots. I need to create a couple more photobucket accounts as they only allow so much bandwidth each month. I hate the images disappearing as it looks so shoddy, so need to create a few more. Which means I need to create some more emails as you can only use an Email once when creating a free account. You'll see images appearing over the next several hours and hopefully by the time I post today's games in the morning (or around lunch time, I'll have all the images uploaded. It's added a lot of extra work adding images, but I do think it helps to give you a better idea as to what to expect. I realize some of you have capped download limits out there so I'd hate for you to be downloading too many games that you decide aren't your thing. It's hard to give a global description to any game as we all have our preferences, and sometimes I may describe a game as fantastic, but in reality it's only fantastic to me, lol. :) anyway, here's today's selection. Please do leave a comment if you decide to download, if only to say what you though of the game. Thank you in advance.
I've uploaded too many images to post below so though it would be cool to post a link to all the images. i've placed them all in the same folder, but labelled them, so you can see which images belong to which games. THIS link takes you to a page with all the images on. you can click on individual pictures to see a larger resolution image, though photobucket only allow up to 800 x 600 resolution images with the free account; however the size is adequate for the purposes of this post. You can also see all the images as a slideshow HERE, where you can see all the images in the highest resolution automatically. There is a slider to the top right of the grid page (where you can see all the images), which enlarges all the thumbnails to a respectably sized small image. :)
W.R.
----------------------------------------------------------------------------------------------------------------------------------------------------
Dirty Split: (182.75Mb)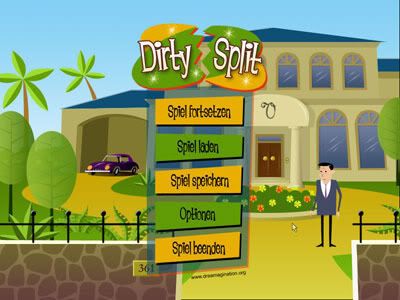 German Menu
A point & Click Adventure developed by Dreamagination. Mistyann PM'ed me several days ago recommending this great little point and click adventure which was developed as freeware by Dreamagination. I noted that they have had bandwidth problems in the past when there's been a run of downloads from their own download link, so, if you have problems downloading from the first lik provided below, use the second one which is unlikely to go down. However use the developers link first as I'm sure they would like to know the number of downloads that are made.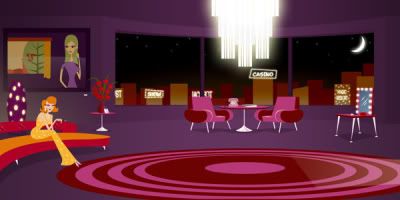 Penthouse Suite
The game:
When a plastic surgeon is found murdered in his office the police are quick to apprehend a prime suspect. It is a textbook case – except the suspect didn't do it. There is more to the deceased doctor than meets the eye. Much more.
The aim of the adventure is to lead private investigator Alan Baxter to the truth as an ever-increasing mystery unravels before his eyes. Follow clues to exciting locales such as Los Angeles, Las Vegas and New York. Feel the vibrant style of the 1960s era and meet a fascinating variety of characters. 'Enjoy' a story that will keep you guessing until the end.
The game was inspired by the artworks of Josh Agle; this project tries to revive the buzzing and stylish lifestyle of the early 1960s. It was developed using the Wintermute Engine
International Airport
Features:
• surprising original plot
• over two dozen stylish screens
• 19 interactive characters
• German, English, French, Spanish, Italian and Czech versions version
• beautifully voiced characters throughout
• original soundtrack
• animated cut scenes
• classic point & click adventure gaming
• FREE download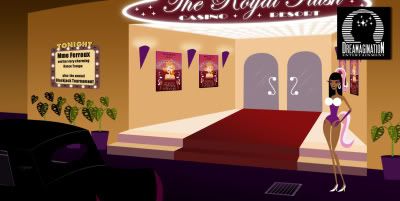 Casino Entrance
Download:
You can download Dirty split HERE; or, if you are having problems get the game from HERE
----------------------------------------------------------------------------------------------------------------------------------------------------
A Bugs Drive: (7.40Mb)
The game was developed for the Caiman games car game contest.
You race against other Bugs, across 12 tracks. Finish in the top 3 to unlock a harder Championship. Improve your lap time in Practice Mode by racing your own Ghost. Each track can also be driven in Reverse mode.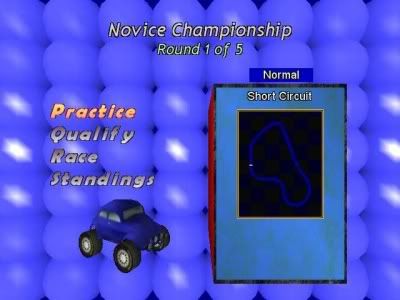 Game Modes
Options
A nice and exciting 3D racing game with off-road Beetles

A very complete game with 12 tracks, 4 difficulty modes, Championship, Quick race etc.. Each with Practice, Qualify and Race.
Every track has his own graphics and a bit of variety with elements such as tunnels, bridges and different textures.

In Practice Mode you can now race against the ghost of your best lap. There is one ghost representing your overall best, and another for your session best. Even if you choose not to display them, the ghosts of your best laps will still be saved.
Reference accessed HERE November 09
In game
Controls (keyboard or gamepad):
Arrows = Steering, accelerate, brake
P = Pause
Q = Quick restart
C = Camera
M = Pause/unpause music track
N = Play next music track
Enter = Confirm
Esc = Exit to menu
These are the default controls (A). You can change to a different control set-up on the Options Menu. Controls B use other keys. Controls C and D use a joypad.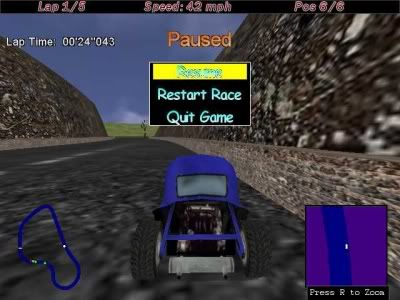 In game Options
Download:
You can download A Bugs Drive HERE, HERE or HERE
----------------------------------------------------------------------------------------------------------------------------------------------------
The Gear That Works: (1.2Mb)
This is a Gearworks clone (see links to the original abandonware version below) Basically you have to connect the red cog to the green cog so that all the other cogs turn and you win the level. The game is virtually the same as Gearworks except the graphics are much improved and the levels are different. The levels get progressively harder (as you would expect in a puzzle game). This is an ideal game to play in short bursts; for example, during a coffe break at work, or if you're like me, as a break from one of the big boys like Call of Duty or Crysis. :)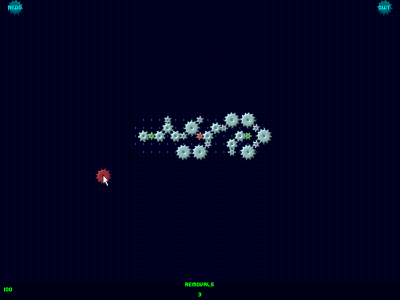 The following description was written by The Game Hippo reference http://www.thegamehippo.com/game.php?Game=5828473">HERE. You can also get the latest version of the game from their site by following the reference link above.
The Gear That Works is a simple logic based puzzle game involving three different sized cogwheels, a start point, an end point, and no questions asked. The aim of the game is to connect the starting cog to the ending cog in such a way so that both of them are spinning. This can be made difficult due to gaps in the play board, spinning cogs placed in hard to reach places, and my favorite: accidental jams (placing cogs in such a way that they stop each other).

You can place cogs anywhere you like on the board and you're given three cog removals every five levels. Removals are handy, so only use them if you jam up your chain. The fact that you can place cogs anywhere and that you get a point deduction for every cog that isn't spinning when you finish the level adds a unique strategy aspect to the game.

If you're given a cog that isn't useful, you have two options: either place it out of the way or latch it onto a cog in a way that it won't hinder the rest of the chain. If you place it out of the way, then that cog won't be part of the chain and therefore won't be spinning when you finish the level, resulting in a point deduction. On the other hand, latching the cog onto the chain may end up ruining future moves if you choose a wrong spot.

As a side note, the music is about as simple and catchy as it gets. It got to the point where I left the window open just to hear it. I'm sure the majority will find it annoying, but I rather liked it.

In short, The Gear That Works is an addictive and simple puzzle game that's sure to waste some time during your coffee break.
Downloads:
You can download The Gear That Work HERE, and from the reference link above (Game hippo) plus theres an earlier version that's less than a Megabyte HERE
.
You'll find an early gears game called Gear Works and Gear Works (re-make) in the games discussion forums HERE
----------------------------------------------------------------------------------------------------------------------------------------------------
Rival Ball: (3.89Mb)
Rival Ball is in the style of the classic old school arkanoid games, with decent graphics.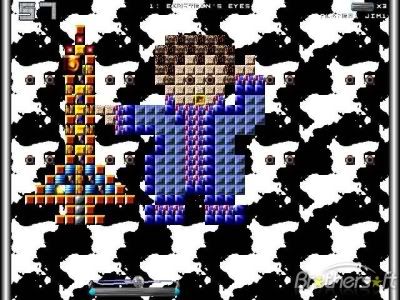 Destroy all the blocks on the level to pass through to the next. There are many bonus's that will appear when some of the blocks are destroyed. These include guns, speedup, slow down, skull and bones, and all the other common pickups in arkanoid games. It's only a short game with 8 sets of 3 levels each. I though it worth tagging onto todays free games. It's more an intro to the larger game This is a free sequel to DX Ball 2. There is a commercial version of Rival bBall which I purchased (around 4 years ago)before finding this free version.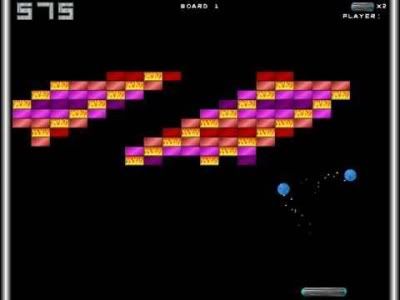 I loved DX Ball 2 (all the level packs that used to cost extra are now free if you own the full version game of DX Ball 2) and its sequel is equally as good to play. (I don't regret buying it, though I paid a lot more money that what's being asked for now) The commercial version has loads more levels and extra level packs (costs around $5 each and can be found HERE). There's actually more levels in the demo version of the commercial version (32 in the demo compared to 24 in the freeware version), so it may be worth checking that out if you liked the freeware version. :)
Download Link:
You can download rival ball HERE or HERE
====================================================================================================