We've got some more amazing bargains this weekend over at Valves Steam. all prices are quoted in pounds sterling. The exchange rate is ~ £1 to $1.6
Crysis and Crysis Warhead
You can compare what the real thing and the same thing in game looks like via the image below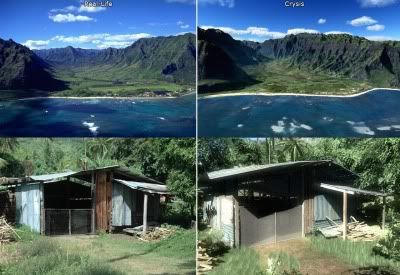 You can get both Crysis titles (Crysis and Crysis Warhead) for £9.99 each. Crysis was a ground breaking game when it was released late in 2007. With it's open environments and amazing graphics with destructible environments the scene was set for a brilliant game. You can buy the package for £19.98 Both are well worth it in my opinion.
The only thing that I felt spoilt the game was the introduction ofan improvement. You don't see the aliens until at least two thirds the way through the game, though they do crop up momentarily when some of your team members are taken by the aliens.
You'll find a large modding community with hundreds of extra maps to add to the game. (One map is even named after me, with a couple more related to it. The story line was that Imy helicopter crash landed and I was taken prisoner. The aim of the game was to find where I was being held captive. The first map ends when you find where I was being kept empty, a couple more maps continue the story. The guy who created the maps never completed the set, but the reason they were named after me was because of the beta testing I'd don over a few years, mainly with battlefield 2 stuff – no I'm not kidding, there really is a map named after me). This is another game like Call of Duty that held its price for a long time, though I've noticed recently that it's crept down in price. That's not to say its old stuff. This game is still within the realms of 'groundbreaking'. Apart from the amazing graphics, you've got a day and night cycle. You can see the shadows move with the time of day as well. The time is of course speeded up, so a typical day lasts for around 20 minutes before the sun sets. The views are amazing in this game and it's even worth stopping to watch sunrises and sunsets, lol. There's also a levels editor available which enables you to make your own, (there's a lot of support on the forums related to the editor, so if you fancy trying your hand at making a level if you get stuck there's going to be someone there to help) .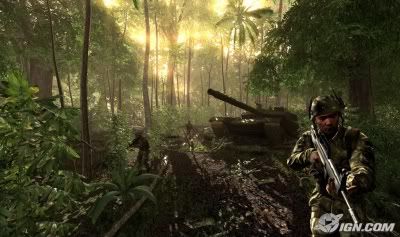 If you like First Person Shooters this is really a must have in your games collection. You do need a decent rig and graphics card to run the game with the graphics settings maxed out. When I first bought this game I ran it on the present system (3.2Ghz dual core with a NVidia 8800 GS 625Mb Graphics card) and I couldn't run it with the settings maxed out. I could, but when there was a fire fight the game used to lag, so I had to turn off Anti-aliasing (which makes the picture sharper by removing signal noise within the images that are being shown on the screen). The recommended system requirements are actually quoted at less that what I had. (See below)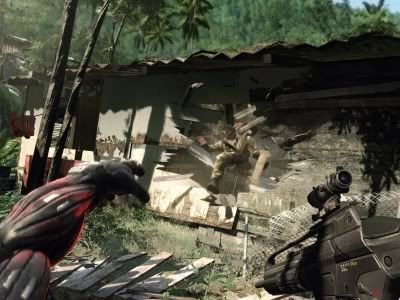 The image above shows your character in 3rd person view throwing a korean soldier through a hut. Most buildings can be destroyed or at the very least damaged. you can even shoot down trees if you want, lol
The following are some videos that you can check out:
You can find the deal on Steam HERE and HERE You can see more videos via this link as well as some screenshots of the games.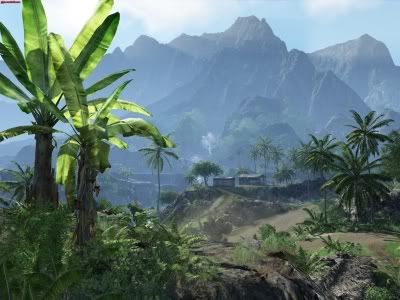 System Requirements:
Minimum:
• Supported OS: Windows XP or Windows Vista***
• Processor: 2.8 GHz or faster (XP) or 3.2 GHz or faster* (Vista)
• Memory: 1.0 GB RAM (XP) or 1.5 GB RAM (Vista)
• Graphics: 256 MB**
• DirectX Version: DirectX 9.0c (included)
• Sound: DirectX 9.0c compatible
• Hard Drive: 12GB
• * Supported Processors: Intel Pentium 4 2.8 GHz (3.2 GHz for Vista) or faster, Intel Core 2.0 GHz (2.2 GHz for Vista) or faster, AMD Athlon 2800+ (3200+ for Vista) or faster.
• ** Supported chipsets: NVIDIA GeForce 6800 GT or greater; ATI Radeon 9800 Pro (Radeon X800 Pro for Vista) or greater. Laptop versions of these chipsets may work but are not supported. Integrated chipsets are not supported. Updates to your video and sound card drivers may be required.
• *** Currently only the 32-bit version is available.
Recommended:
• Supported OS: Windows XP or Windows Vista
• Processor: Intel Core 2 DUO @ 2.2GHz or AMD Athlon 64 X2 4400+
• Memory: 2.0 GB RAM
• Graphics: NVIDIA GeForce 8800 GTS/640 or similar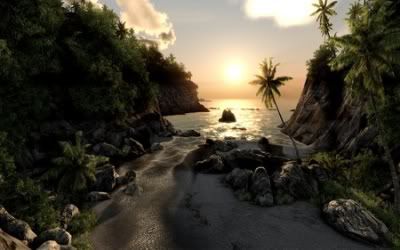 The following was a short review that I though was worth posting here.in particular the first couple of paragraphs:
It's not until you're about 20 minutes into Crysis that its full breathtaking visual beauty is unleashed. It happens just after you've taken out a group of Korean soldiers on patrol in a ravine thick with undergrowth. In the early dawn light you loot the corpses for ammo and reload.

Following your CO's lead, you head uphill, out of the jungle. Then, just as you emerge onto a cliff top overlooking an enemy encampment at the edge of a harbour, the sun rises…

Wow!

At this point, I guarantee your jaw will drop (assuming you've got a PC powerful enough to run the thing). First you just have to take all the details in: The sunlight glimmers on the ocean as the waves lap against the shore. The palm leaves above cast realistic soft shadows on the ground. The trees sway lazily in the breeze – if you've seen the demo, you'll probably whip out your rifle and start creating some lumberjack mayhem here. The vegetation all reacts just as you'd expect it would when you unload 40 rounds of hot lead in 10 seconds flat…

I could go on. There's all sorts of other DirectX10 shenanigans at work here too: depth of field; HDR lighting; motion blur… You name it. The whole effect is frankly stunning.
So it looks great, but how does it play?

Crysis is a game of two parts: the first part (which takes up roughly two thirds of your playing time) is pretty great. It goes like this: you're part of an elite commando unit carrying out a top secret black ops mission on an island in the Pacific Ocean… Blah blah – the usual shallow FPS plot guff ensues, but suffice to say it involves plenty of angry Koreans, one hot scientist babe and a mountain-full of multi-tentacled alien-robot hybrid things.

It also involves – and this is important – a super-suit with four different powers. Look, don't ask: you're a super commando, alright? The best thing is that you're in your suit right from the word go.

I'd better say a little about the suit, since it's the unique selling point of Crysis.
Default mode is armour, which drains energy instead of health when you get shot. And you'll be getting shot a lot in this game. Then there's strength which, er, makes you dead strong and that. Oh, and it also allows you to jump very high. I never used this mode too much, although you can see it a lot in the promo videos where players are levelling trees and shacks with their fists. Speed is less than useless thanks to it's massive energy drain.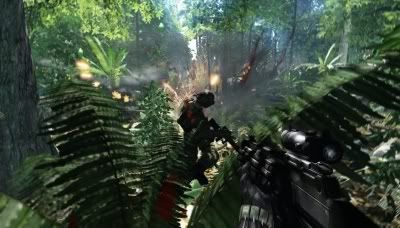 Reference accessed 13th November HERE
finally; To appreciate the graphics in Crysis it's better to see larger resolution images which you can see HEREas a slideshow , or all on one page HERE, where you can select individual images. There's a slider to increase the size of all the images to the top right of the page.
One last thing about these two games; what you see in the images above is fully explorable either on foot or by vehicle apart from the mountain ranges; though you can climb parts of some of the Mountain. The game is mission based, but you can stray from your mission objectives at any time and go explore the large island you parachuted onto. (I'm going to reinstall this game just as soon as I've finished this. It's a much better game that any of the Call of duty games, even the latest one and theses games are now two years old; well the first one is. I think Warhead was released about six months after Crysis was released. I'm tempted to buy second copies so that my son can play with me online; or at least the original game. With all the custom content that's available and still being made I never saw th need to release a second instalment of the game, but being a collector as well as a gaming enthusiast I couldn't resist buying the second title (Warhead). I've not even played Warhead yet because I never finished playing the first game die to all the custom made maps (I think I've already said that, lol.
----------------------------------------------------------------------------------------------------------------------------------------------------
Overlord, Overlord II and the expansion Overlord: Raising Hell
The second deal this weekend is the whole of the Overlord series for only £6.25. That includes three games Overlord, Overlord II and Overlord: Raising Hell, which was only released earlier this year. That's over 75% off if you buy all three together. You can buy them separately as well. Overlord £1.50, Overlord II £5 and Overlord: Raising Hell £2.50.
Overlord I images: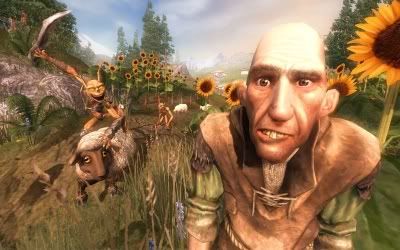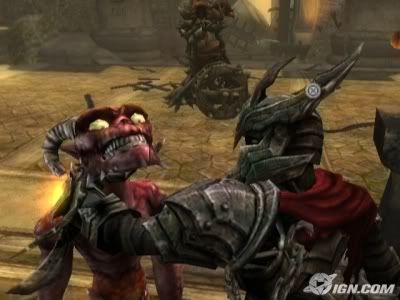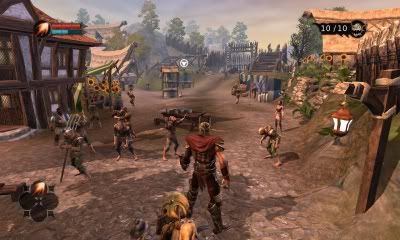 Check out You tube videos:
You can find details of the game, screenshots and more video HERE, HERE and HERE
Overlord II, sequel to the critically acclaimed cult hit, sees the return of the chaotic Minions and their new Dark Master. Bigger, badder and more beautifully destructive, Overlord 2 has a Glorious Empire to smash, a massive Netherworld to revive, Minion mounts to mobilize, a trio of mistresses to woo, War Machines to crush opposition and lots of cute creatures to, err... murder (and a mini-map)
What sort of stuff will I get to kill? Your main source of victims will come from the brave and highly flammable ranks of the Glorious Empire, a sinister regime that gained power after the fall of the previous Overlord. You'll be hacking your way through entire battalions at a time, but to keep the blood on your sword varied we've also thrown a few Yetis, Elves, villagers and annoyingly cute indigenous species into the mix, just to name but a few. Don't say we never do anything for you.
I've always wanted to enslave the human race, is this the game for me? You've come to the right place! With the Domination style Overlord humanity, can become your plaything. Village by village, you'll reap the benefits of an unwilling workforce as you drive the Glorious Empire from your lands.
I'm more of a "watch the world burn" kind of guy, can I still get my rocks off? We've got your pleasure, sir. With the Destruction style Overlord you can ravage the land like a moody Tsunami; razing cities, forests and Imperial camps to the ground just because they looked at you funny.
Overlord II Images: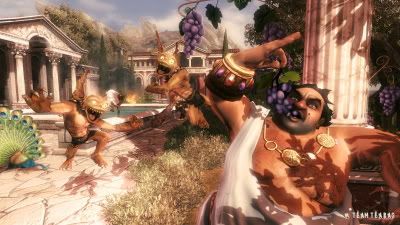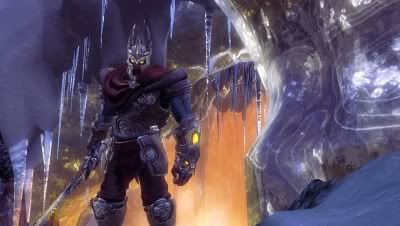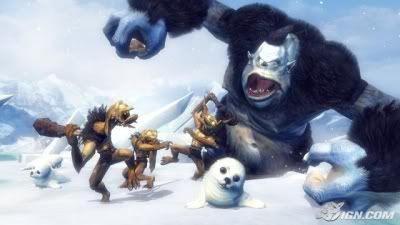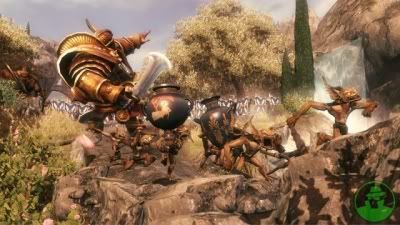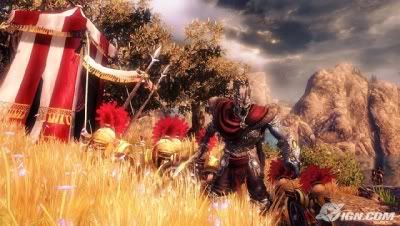 What can my minions do? Minions are angry little Swiss army knives of pain: They can ride into battle on wolves and other magical creatures, loot the best weapons from stomped enemies, pillage houses for treasure, operate fearsome war machines, infiltrate enemy camps and polish your armour so thoroughly you'll blind passing wildlife.
What types of Minions can I rule? This new batch of minions is smarter, faster, deadlier and wittier than the sorry sacks of skin you used to rule. Minions now come in four fantastic flavours: Browns are brutal brawlers that solve their problems with teeth and fists. Reds are the surly artillery who love to play catch, as long as it's with fireballs. Greens are the stealthy assassins. Silent and deadly, like a fart on legs. Blues are no use in a fight but can resurrect fellow Minions who've tried to stop a sword with their face.
Overlord: Raising Hell expansion images: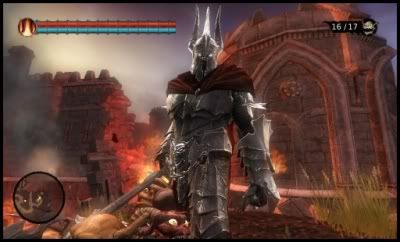 System Requirements:
• OS: Windows XP SP2+
• Processor: Pentium 4 3.0Ghz/Athlon 64bit 3000+
• Memory: 1GB
• Graphics: GeForce 6800+/ATI X1600+ with 256MB
• DirectX®: DirectX 9.0c
• Hard Drive: 5GB
• Sound: DirectX Compatible Sound Card
You can see larger resolution images from all three Overlord titles HERE as a slideshow or all on one page HERE. If you want to see individual images at a higher resolution you can click on the image, or alternatively use the slider to the top right of the images to increase all the images sizes.
----------------------------------------------------------------------------------------------------------------------------------------------------
QuantZ:
Finally you can get an unusual match three game called QuantZ for half price until next week for only £3.99 at 50% off. You'll find images and a video by going to the Steam page HERE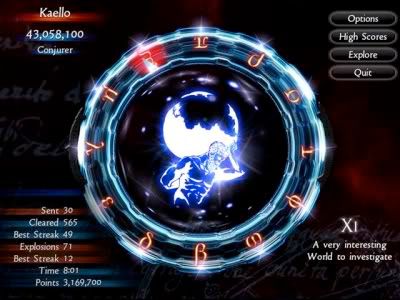 You can also see more video's HERE, HERE and HERE
Experience a new dimension of puzzle action game fun in QuantZ for the PC; a fabulous adventure that goes beyond the Action-Puzzler, Match-3 and Marble Popper genres. The gameplay is simple yet addictive: you have the power to control a cube with your mouse and drop marbles onto it. Create explosions of colors, chain reactions and win special rewards. Explore an immersive universe and become the QuantZ Oracle! With 24 unique and beautiful worlds to go through, 100 puzzles to complete and innovative game physics, QuantZ will amaze you!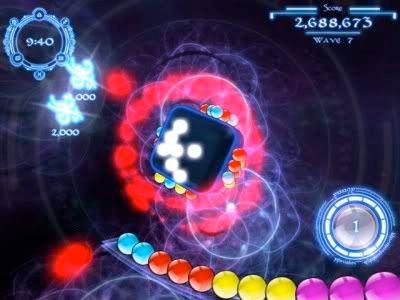 Key features:
• A unique Action Puzzle game play
• Easy to play
• 3 distinct game modes: Strategy, Action and Puzzle
• 24 worlds and 100 puzzles to solve
• Captivating graphic and music
• More than 30 hours of fun
Key Steam-Exclusive Features:
• Cloud — Save your progress in the Steam Cloud and pick up where you left off from any PC running Steam.
• Achievements — Collect all 15 Steam Achievements
• Leader boards — QuantZ has seven leader boards:
• Action Mode High Scores
• Strategy Mode High Scores
• Best Explosion Streak
• Number of Puzzles Solved
• QuantZ Launched to Complete Action Mode
• QuantZ Launched to Complete Strategy Mode
• Time to Complete Puzzle Mode
System Requirements:
• OS: Windows XP/Vista/7
• Processor: 850MHz processor
• Memory: 512 MB
• Graphics: 128 MB of video memory, 16-bit or 32-bit color quality
• DirectX®: DirectX 9 or later
• Hard Drive: 80MB of free hard drive space
=================================================================================================