Conflict Vietnam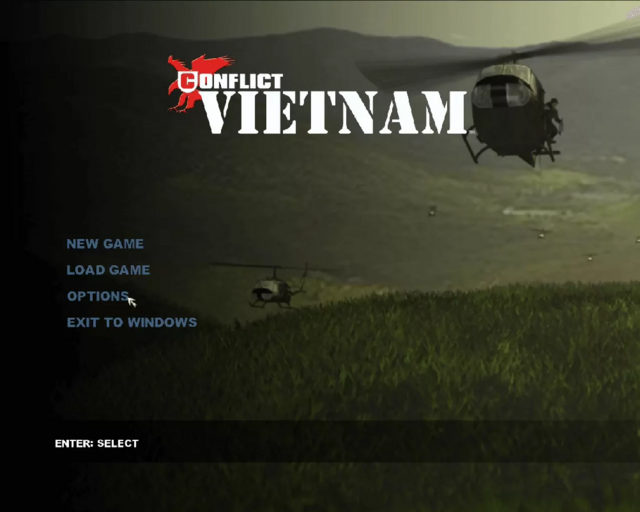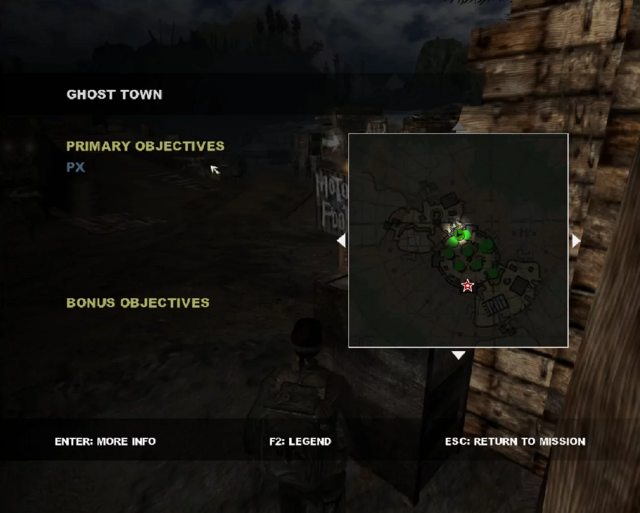 Conflict Vietnam is an excellent 4 player, squad based third person strategic shooter, released in 2004 for Windows and was the third in the Conflict series created by the now defeunct Pivotal Games Ltd (they were based just a few miles from where I used to live).
The game recreates some of the battles US forces were involved in during the 60's and early 70's, and includes various missions, both protecting the firebase your main character is posted to at the beginning of his tour, jungle based patrols, helicopter flights where you man a machine gun and rain down hell on the Vietcong as well as a variety of other missions such as protecting a local village by clearing out Vietcong (see below for more mission details).
You can see several videos of game play HERE, HERE (4hr 27mins), HERE, HERE (cut scenes only - full game playthrough - 14mins, HERE and HERE (Tet Offensive)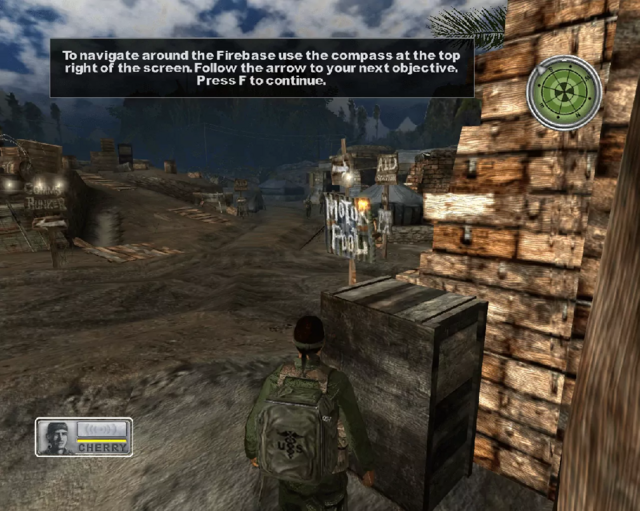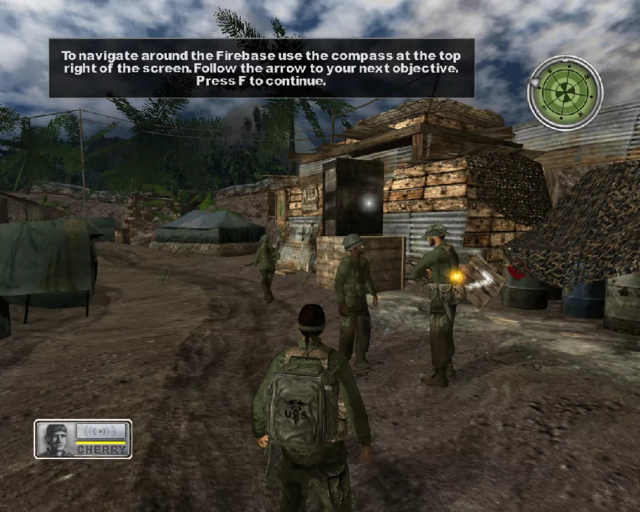 This is one of my favorite squad based games from the early 2000's, which I'm still playing to this day every so often. You can choose from four difficulty settings, Easy, Normal, Hard and Extreme. You have a limited number of saves per mission, so you need to use these judiciously, otherwise you may find you've still got a long way to go before you end a particular mission, with no save spots left. (With respect to the first official mission following your training, I wouyld advise usuing your first save once you get to the final redoubt as it is there that most of the remaining action for that mission takes place and is where I have died more often than not. Having tos tart from the beginning of the mission, over and over can become tedious. I found getting through that fir st mission was to ensure you continue to give first aid to any of your characters that has lost at least half his hit points (indicated by a green bar); if anyone goes down a ttis point, it's difficult to get them up again as while giving aid, you effectively only have two characters defending the redoubt and there are a lot of Vietcong, coming in waves. It gets even harder when the tanks appear. But using the rocket launchers which are found in abundance around the redoubt can save the day if you have got used to the controls, which becasue of your squad commands, can be a little daunting a tfirst. I used to keep a crib sheet with all the commands written in bold and kept below my monitor so that I could make sure I was using the correct key bindings as every second can count in those final few moments defending the redoubt.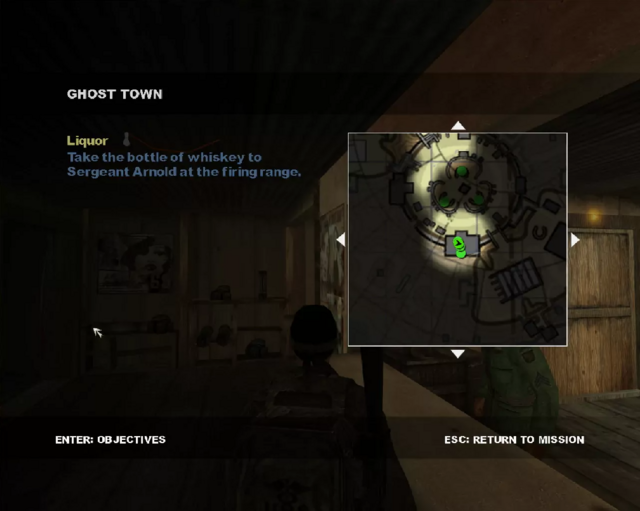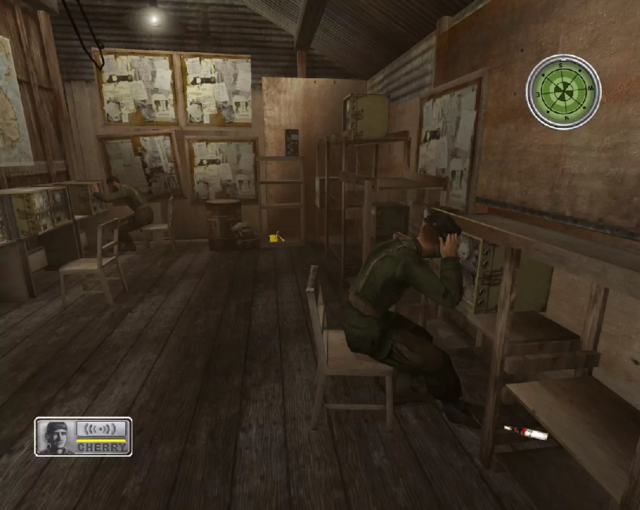 The game starts off with you flying to your first posting via helicopter, where, on landing you have to report to the commanding officer. From there you are told to find your way around the base, stopping off at various places including the ranges, where you get to use some of the weapons you'll have access to during the game. You'll get first aid training and be given practice at controlling the other three characters in your squad. You can swap between each character at any time during missions. Each character has their own attributes, which as you progress are upgraded at the end of each completed mission. Each character is awarded points that are calculated on the basis of how many enemy soldiers they have despatched both stealthily and by direct fire; plus all four characters equally share any points awarded for destroying vehicles and tanks as well as the points gained for completing primary and secondary missions successfully.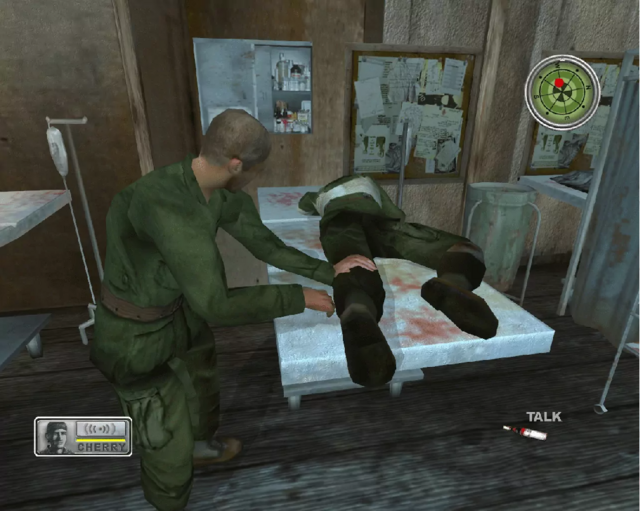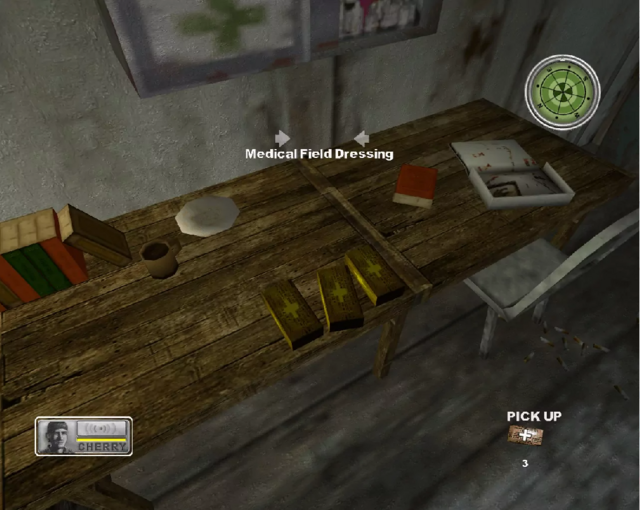 Points are deducted if anyone is missing in action at the end of the mission and if any friendlies are killed by your team during a mission. Various skills such as pistol, assault rifle, sniper rifle, machine gun, grenades, shotgun, medic, rocket launcher and booby traps can be upgraded up to ten times. Each of the four playable characters have their own specialisms and start off the game with more skill points spent on their particular specialism; for example Hoss's specialism is shotgun, Junior is sniper rifle, Ragman's is machine gun and Cherry is assault rifle. You can select any of the specialisms at the end of a mission, but it is advised initially to concentrate on each characters own specialism first. It's advisable to have at least one or two squad members proficient at being a medic and disarming booby traps, to ensure squad members can be revived successfully if they are downed. If you don't give first aid to a downed member, and their life bar which shows as red reduces to zero, they die and cannot be revived until the mission has ended. You will lose valuable points if any member dies during a mission.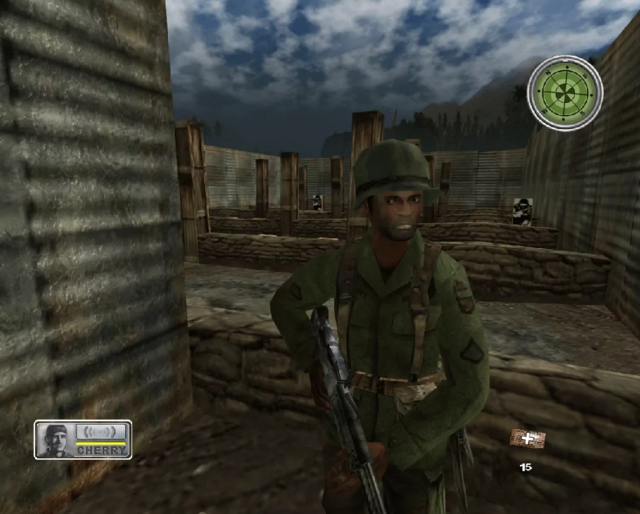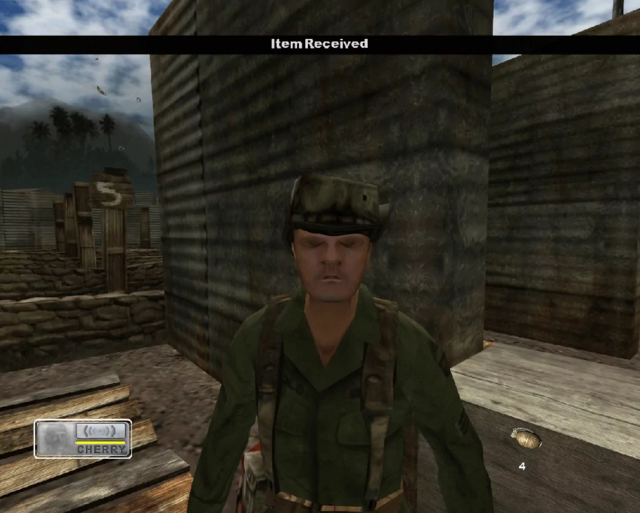 I love the first few missions where you are posted to a firebase (now termed forward operating base), where you initially undergoe your training; then, are sent to the perimiter to man a machine gun to try and stop Viecong guerillas attacking and gaining access to the base.(Mission: Tet Offensive). At one point you are ordered to get back to a particular section of the camp (your redoubt) as the Vietcong are now swarming into the base. You then have to stay alive and repell the invaders. You can call in air stikes at this point. Towards the end of the attack tanks appear. Once you've managed to destroy those (using the rocket launchers) the base is saved. You then are sent out on your first patrol. The game is divided into various missions (such as a patrol in a huey helicopter, anoher one on a Fast Patrol Craft, a tunnel rat mission, taking hill - 933, a citadel mission, and even one based on the famous scene from the Deer Hunter, where the guys are captured and are forced to play russian roulette, plus others that involve patrols through jungle environemnts and going to villages. Each mission is introduced with a short video presentation and at the end of each mission you are awarded upgrade points for each character which can be spent on their various attributes. The more enemies you kill, the more points you can earn.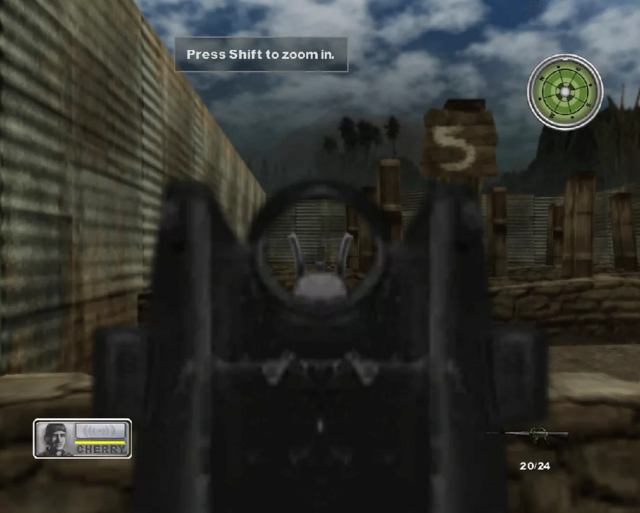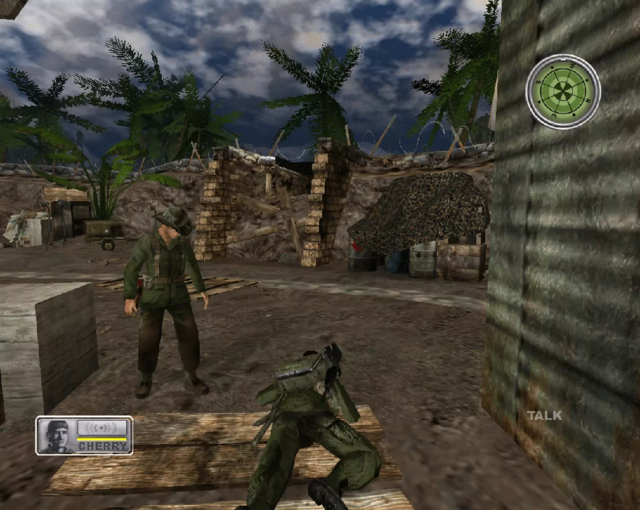 Despite its age, it still looks pretty decent and I highly recommend this game; especially if you like squad based games. It's superior to the first game posted in this project i.e. Hidden & Dangerous 2.
You can download the game This link. It's an ISO version, so you will need to copy it to a DVD. The file size is 1.6GB. using a suitable burning tool that enabes ISO installations. (You'll find Ashampoo Burning Studio 2022 for free over on Shareware on Sale HERE that will do ISO disks.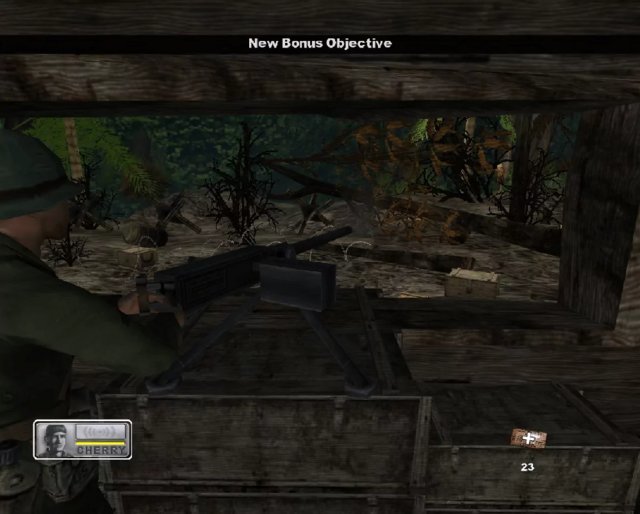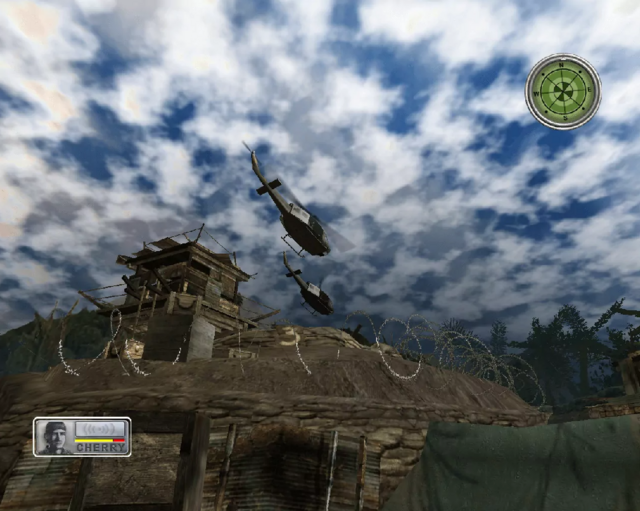 System Spec:
Game's resolution is 640X480.That is a 4:3 resolution. Most of the users have now a 16:9 screen. This isn't a problem, the game is built to keep the screen-ratio in full screen mode.
Conflict: Vietnam is old by todays standards, so unless you have asystem that is almost 20 years old, it's very unlikely tht you'll have issues running it. I played the game from an orioginal disk a few months ago on my win 10 Pro and it ran as smoothly as I remember it.
If you do still use an old system, it requires at least a Radeon Xpress 1200 Series or GeForce 6200 LE (125MB paired graphic memory) to meet recommended requirements running on high graphics setting, with 1080p resolution. This hardware should achieve 60FPS. For your PC to completely meet the recommended requirements you will also need 128 MB system memory. If you own a relatively new system, it's liklely you don't even need a graphic card as the chips supplied with more recent motherboard have graphic chips far in advance of the old 6200LE.
You can read a decent review of the game HERE[/url) and a slightly less positive, but still okay review [url=https://gamefaqs.gamespot.com/pc/919677-conflict-vietnam/reviews/78741]HERE
Other free Conflict Games
Of the five that were made, three are now free. The original squad based Conflict Desert Storm (2002) and the last in the series Conflict Denide Ops (2008), are both available via Steam. The second in the series Conflict: Desert Storm II - Back to Baghdad (2003), is available free HERE, and the last of the 4 player squad based games in the series, i.e. Conflict: Global Terror (2005) is available HERE. The last in the series, Conflict: Denied Ops was a different format in that the squad was only two characters as opposed to four in the other four games.
I'm surprised that they are so cheap over on Steam at only £3.99 for Conflict: Denied Op's (the last in the series) and £4.99 for Conflict: Desert Storm (the first in the series)?