Degrees
In Brief
A 2D top down pursuit/ cat and mouse racing game where you control the chased vehicle.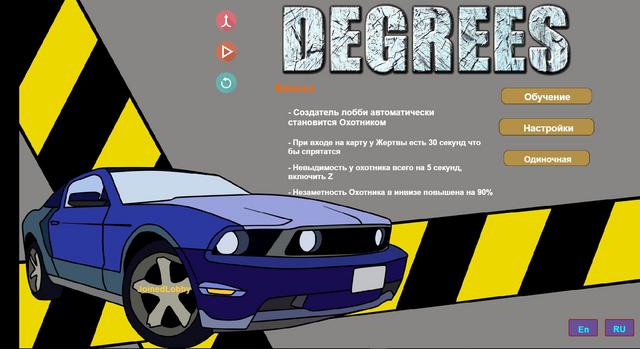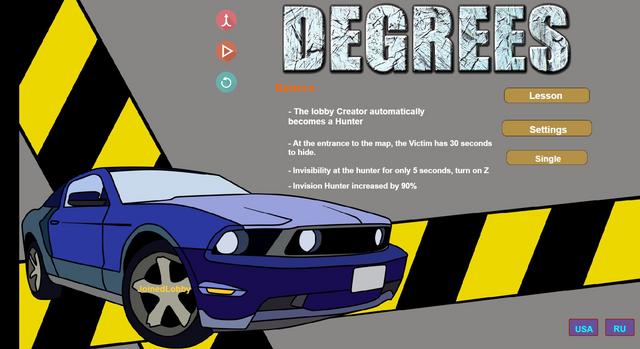 Introduction:
Degrees - racing game with two modes: single and multiplayer mode for 4 players. With a view from above, you control the victim machine on the map, which is pursued by hunters. Escape them and hide in the bushes, so it will be harder for them to find you. With each successful avoidance, you will get points. After 100 000 points is collected, you will win. The principle of playing multiplayer is the same, but the hunter becomes the one who created the lobby.
Reference accessed HERE. 1st April 2019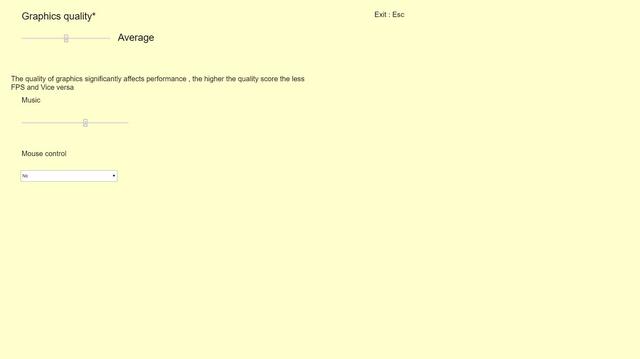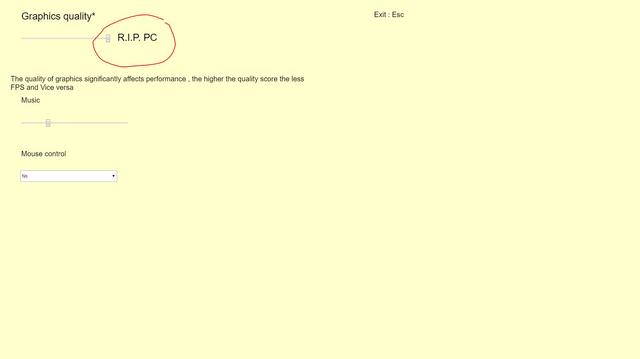 Installation:
Degrees downloads to a 90.4 MB zip file that unzips to two files, (a setup executable and a read me). The game installs to the following path by default, but can be changed if you wish. The installed game is approximately 257 MB in size.
C:\Program Files (x86)\Degrees
Five shortcuts are installed to the desktop, four of which can be safely deleted (i.e. Falco Space - Online Game!, FalconLine Online Games Website, FalcoGo WebGL Games! and Free Games Downloads!). If you don't want to install the games shortcut to the desktop during installation, just make sure the install desktop shortcut is unchecked when the 'additional task's window appears; you will still get two of the other Falcoware shortcuts installed (i.e. FalconLine Online Games Website & FalcoGo WebGL Games shortcuts). Also, if you don't like icons installed to the quick launch task bar, make sure you also uncheck the appropriate checkbox when the 'additional task's window appears (after the Select Start Menu Folder window).
The Game:
The game starts with a menu screen in Russian; however, you can select the option to change this to English (EN) via the language button located to the bottom right of the game screen. The game also opens in a large window.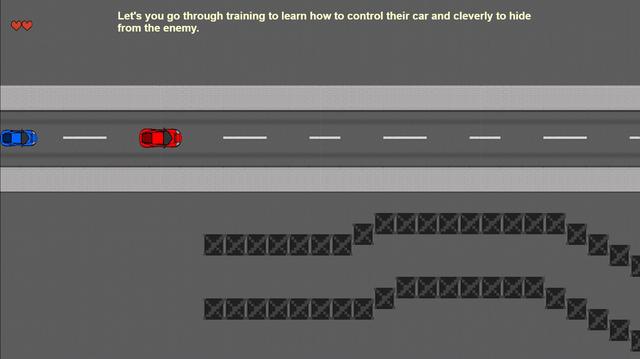 The multiplayer portion of the game doesn't have a specific button labelled multiplayer. instead, next to the main tittle there are three buttons, one of which takes you to a multiplayer map that is salmon coloured and has an upward pointing arrow. The orange triangle resets the main menu to Russian and the lower blue/green button does nothing. Next to these buttons is a title called Balance and below that information about the game i.e.
1) ... The lobby creator automatically becomes the hunter.
2) ... When you start the map the victim has 30 seconds to hide from the hunter.
3) ... To become invisible for five seconds the hunted can use the z key.
4) ... The hunters vision is increased by 90%, but it doesn't explain how or why?
Selecting single player opens up a level selection screen with 10 levels. On starting the level as mentioned in number 2 above, you are given some time to find a hiding place on a map that has several walls of various shaped. There's also a warp feature that allows you to transport to another part of the map instantaneously, but this is often inactive. An active warp is green in colour, inactive warps are yellow. I couldn't figure out whether these were time dependent or of one use per level? Using a warp will automatically deactivate it once you've been transported. Using the warp feature does not guarantee that you can escape a hunter as you may be transported to another part of the map where other hunters are located. In fact on a number of occasions I used the warp feature to escape only to find two hunters at the other end and lost a life almost instantly.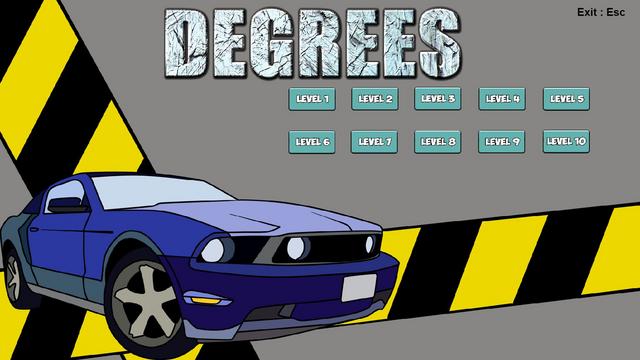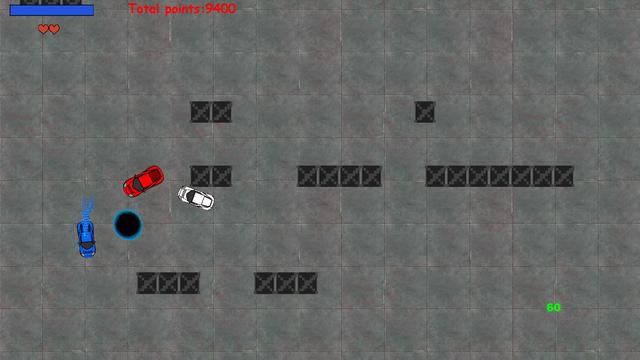 You start the game with three lives. If any hunter picks you up on the map, you get a warning below your life counter. Once they pick up your scent, you can avoid them by finding a hiding place, using various obstacles and mazes. They have slightly more speed that your vehicle, so you need to maneuver efficiently to avoid being caught. If any hunter touches you, you'll lose a life immediately. When all your lives are lost, the game automatically resets to the start of the level, but with no time to hide. This continues until you complete the level. Pressing the Escape key automatically takes you back to the main menu. When the level selection screen for single player mode is open, you can play any level right from the outset. I played this game on and off for over an hour and could not find a way to end a level.
To start a multiplayer game click on the upward pointing arrow that is located next to the games title. Below that is a triangle, which if pressed will reset the game to the Russian menu. The multiplayer map includes the number of opponents located in the top left hand corner of the map. Each opponent has a different colored car and the number allocated is dependent on who starts the map first, for example when I entered the map as the first one my red number was one and it was the same color as my car.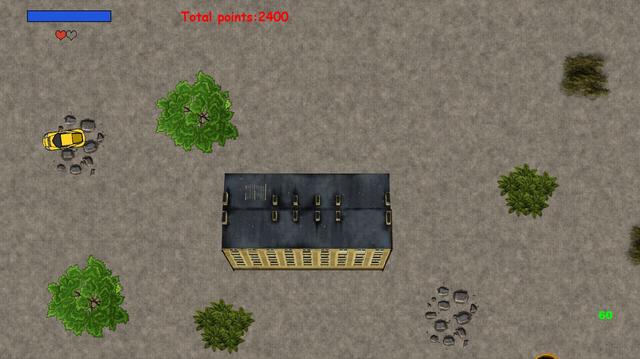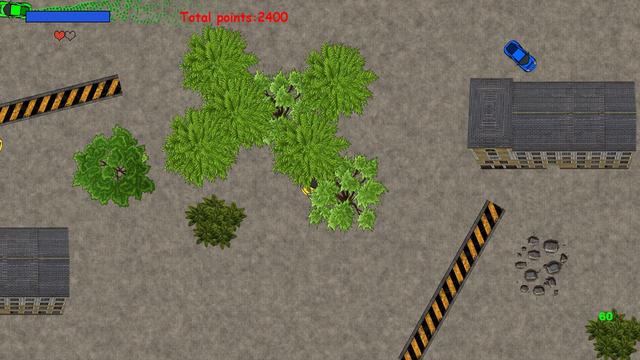 The settings menu includes a volume and graphics quality sliders, with a message telling you that quality significantly affects performance, the higher the quality, the less the Frames per second and vice versa. Setting the quality to full you get a message saying R.I.P. PC. On trying different setting I couldn't detect any change in the graphics quality however on maximum quality, the vehicles seemed sluggish. There's also a mouse control drop down menu where you can select to use the mouse or turn it off. (its off by default) to return to the main menu press Esc. If you return to the options menu, you'll find all the setting s have returned to default. This also occurs when closing the game down and restarting everything resets.
Whiterabbit-uk 1st April 2019
Conclusion:
The game indicated that it includes a multiplayer option, but there doesn't appear to be any way to create a lobby. You can enter a multiplayer map, but you are the only vehicle entering. I left a multiplayer map running for over an hour with no one joining. The hunters had a tendency to get stuck against walls and the games boundaries
The Steam store reviews (HERE) say this has mostly positive reviews; however, I'm very suspicious of those reviews. All the positive reviews have very little time in game and say nothing except mentions multiplayer and achievements, which are not available via the free standing version which we are given. You can see all of the reviews . Most of the positive reviews are in Russian and they have mainly less than 30 minutes of game play.
Video of Degrees:
You can see a video of game play via the Steam sore page
HERE
&
HERE
.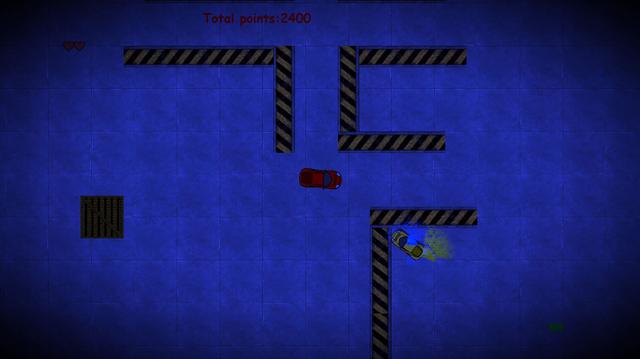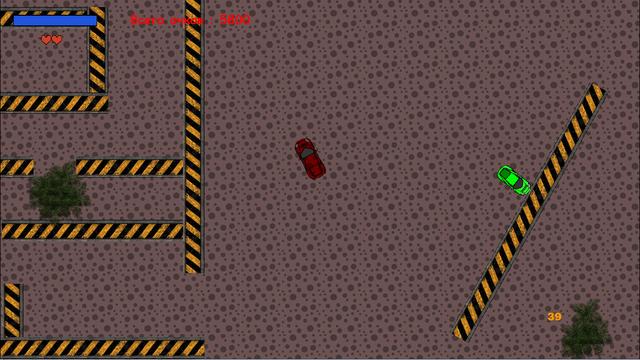 Suggestions:
After you've had an opportunity to play today's giveaway please take a few moments to give some positive or negative feedback; for example, what you liked or disliked about the game, or how it could be improved. If you don't like the genre at all, please explain why and if any, what improvements would change your mind? If you don't have time to post a comment today, please do so at your convenience, thank you. If you wish to post a review or comment about the game later, you can access the comments section by going to the game giveaways home page, then scroll to the bottom of the page where it says Archives and select the date the giveaway was live (giveaway days are in bold type). This will open the appropriate page for you to post your comment or review. Alternatively, you can google the name of the game and include Gamegiveawayoftheday in the search. This should give you a list of links to whenever this game was given away.
If you miss today's game giveaway you can always get the game via Steam HERE for £0.79/$0.99/€0.79/₽30. You can also get Degrees in the Giberti X Bundle HERE for £078/$0.98/€ 0.78/₽ 66 that includes Degrees and Underwater Hunting.
Problems getting the game to work:
If you're having problems installing or activating or Degrees to work please visit the FAQ's Thread HERE and read through the communities comments because sometimes fixes have already been posted, for example, a common issue seen since the Themida wrapper was introduced three years ago is that some community members installation of the game are blocked by their security because Themida code has been known to hide malware, (usually an error message is flagged for example 'The executable is corrupted' even though in reality it is not); so as a precaution some anti malware programs will block and even delete the suspect installation files even though the files (i.e. the setup, read me and setup.gcd files are actually totally free from malware. This issue can be solved either by rebooting your computer in safe mode with networking or a quicker method is to temporarily turn off your security software to allow the installation. You could also try white-listing the setup.gcd file. In the almost 12 years this game giveaway site has been operating there has 'never' been a game given away that was infected with malware.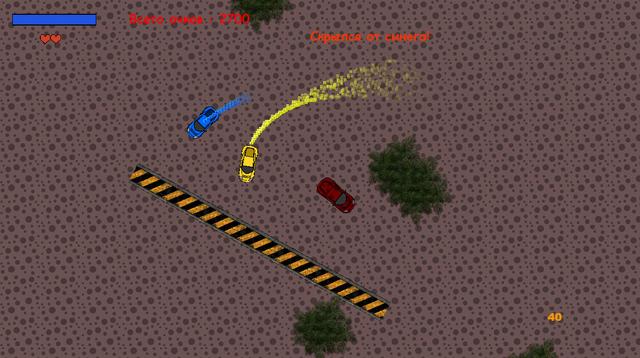 If for any reason you want to contact the giveaway team, for example, you have a game to offer the community, or are unable to download the latest game or other issues that the FAQ's thread or these comments don't cover or solve you can do so HERE
I'd like to take this opportunity to thank the developer GiBar and the distributor Falcoware Games for giving away a free standing version of Degrees, and also to the game giveaway team for securing more free games.
Useful Information not related to today's game giveaway:
If Degrees doesn't interest you, but you still hanker for something new to play, you'll find details of some game deals whether they be sale items, indie bundles or games being given away for free HERE (I've not updated the thread in a while, but most of the links still take you to the latest deals).
The rest of the information that used to be posted in the game review can be found in the forums HERE. Finally, check out Delenns threads for details of other free games and offers HERE and elsewhere in the game discussion forums HERE, (usually on the first page of the game discussion forums). The free game over at Epic Games is Oxenfree a supernatural thriller about a group of friends who unwittingly open a ghostly rift, ( worth £14.99/$19.99/€19.99). Oxenfree ends April 4th. A new game called The Witness will then be available for free. Indie Gala have added Memoranda to their free games list, plus another 20 free games in their recently added showcase section that includes adventure, RPG, Simulation, strategy and casual games i.e. Memetown USA, The Great Story of a Mighty Hero, Camp Sunshine, Five Nations, False Birth, GOR - Gorilla Office Rampage, Home is where Chip is, Age of Fear: The Free World, Die Legende von Saya: Befehl aus der Dunkelheit - (The Legend of Saya: Command from the Dark), What Never Was, The Last Humans: Awakening, Childhood, Dunwell, Safe Not Safe, Hi Hotel, Bugs Must Die, Cuadradito y Circulito, Hellino, Hovership Havoc and Wake Up , or you can find them all HERE. Finally, there are some excellent bargains on sale via Steam HERE.