TechnoBabylon Parts 1-3 (36.8Mb for the three downloads)
This is a series of three point/click graphical/text adventures: The Prisoner of Fate, The Weight of the World and In Nuntius Veritas, all set in a Sci-Fi future.
Life is extremely bad, as from deprivation, oppression, and terror. The tyrannical government is fighting an underground resistance group! There are mysterious forces at work, from the shadows; over 'Trance', the virtual world replacement for the Internet. Latha Sesame is an unemployed, 'Trance addicted' woman who despite her seeming insignificance is being targeted for assassination by some unknown enemy. Dr. Charlie Regis, a police scientist working for the establishment and a technophobe to boot, is being blackmailed by a mysterious stranger intent on controlling Dr. Regis's actions and using him to perform special dishonest tasks.
Part 1
TechnoBabylon commences as Latha and Dr.Regis's worlds collide. In Part 1, The Prisoner of Fate, Latha finds herself locked in the confines of her room, with no contact available with the outside world. You play as Latha and have to attempt to escape from her room. Latha is having to cope with the realness of actuality, being cut off from her virtual 'Trance'; and not knowing she is the one flaw in a grand and sinister scheme which requires her elimination! While technically a one room game, it manages to offer multiple puzzles both in and out of reality, alongside pleasant visuals very reminiscent in style to older adventure games.
Part 2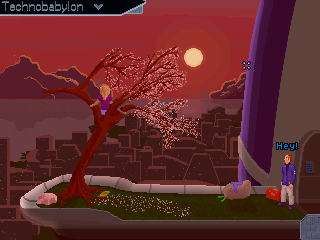 The next game, Part 2, The Weight of the World, has you playing as Dr. Charlie Regis as you solve and prevent crimes, as well as performing the disreputable actions required by your blackmailer. He is being blackmailed over the lives of the unborn children of his dead wife. Part 2 is altogether more robust and an improvement in almost every respect over Part 1, but you should nevertheless play Part 1 first in any case to follow the story correctly. In Part 2 Dr. Regis is haunted by his past and this works really well in the futuristic setting. Puzzles in Part 2 are solid, though logical and sometimes really quite clever.
Part 3
In Part 3, In Nuntius Veritas, you are Latha again as you try to escape, this time from a prison cell/waiting room of the city's law enforcement department, CEL. Having narrowly escaped death at the hands of a bomber, Trance-addict Latha Sesame finds herself being questioned about the incident by the city's law-enforcement body, CEL. Her fear of public 'crowded' places is at its greatest even though the prison cell is bigger than her apartment. Dr Regis has found himself, after tracing his blackmailer's identity, having to interview a shaken woman Latha about a bomb explosion that in some way seems to be related to him and to CEL. Can Dr. Regis track down those responsible, and somehow protect this young woman? There are mini-games as well this time, but the puzzles are slightly easier than in Part 2.
The game has similarities to the 1999 film 'eXistenZ', following as it does some of the main events of this movie.
It's a terrific and very well-polished series of adventures, with superb atmosphere, cool graphics, and some excellent puzzles to solve.
As Part 3 has only just been released, we're very much hoping that further parts will follow!
Download Part 1: The Prisoner of Fate HERE
Download Part 2: The Weight of the World HERE
Download Part 3: In Nuntius Veritas HERE
Part 1 Walkthrough HERE